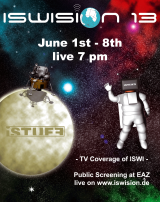 Follow us on Facebook and Twitter
Welcome to the ISWISION 2013
We are back. It's ISWISION-time again. Open your eyes to watch the TV coverage of the International Student Week Ilmenau (ISWI) 2013!
To get the ISWI on air about 30 students of the TU Ilmenau - mainly members of the association FeM e.V. and among them its department iSTUFF (the students telestation of the TU Ilmenau) - do their best to bring to you unforgettable impressions of the ISWI. There will be a live-show every day at 7 pm featuring in-depth reports, interviews and other contributions that will be informative as well as entertaining.
So watch, experience and certainly enjoy the efforts of the ISWISION-Team by public screening at the purpose-made studio (located in the inner courtyard of the Ernst-Abbe-Zentrum (EAZ), via internet-stream or DVB-T on channel 26.
Enjoy and have fun!